The first step toward your log home lifestyle
Posted by Ward Cedar Log Homes in Log Homes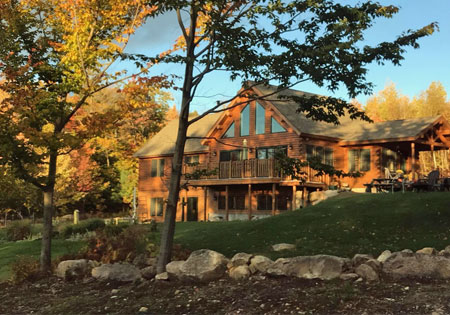 The First Step Toward Your Log Home Lifestyle
The idea of owning a log home may come to you after visiting a display at a home show, or regional fair. Folks sometimes drive by a log home on their commute and become curious, so they ring the doorbell to find out how they can get a log home of their own. The homeowners are usually so enthusiastic they invite them in for tea!
Or, you might meet one of Ward's local representatives, the biggest cheerleaders for the log home lifestyle.
Take Representative Paul Dillaway, who lives in a custom Ward Cedar Log home in Carroll County, at the foot of the White Mountains in New Hampshire. Before Paul became a representative, he and his partner Debbie, worked with Ward to custom design their own home. As a retired real estate agent, he understands homes and the home buying decision. He also knows home building, "I'm a do-it-yourselfer. After getting help building a weathertight shell, I did almost all of the remaining carpentry myself."
Likewise, Jane Sharpe who lives in Sandy Hook, Connecticut, offers three decades of home-buying and building experience. "Over the years we've developed relationships with local builders. We know who is reliable, responsive and trustworthy. Hiring a contractor who depends on repeat business from Ward increases your confidence that the building experience will go smoothly."
Ron Silliboy, who heads up Ward's representative network, notes, "Our representatives offer tremendous depth of knowledge in home design, siting, permitting, and construction. What's more, every representative is backed by our team of designers. engineers, and customer care people at our manufacturing facility in Houlton, Maine."
As members of the local community, Ward representatives are familiar with local building inspectors and codes that cover sanitary engineering, electrical, lighting, ventilation, building materials, fire safety, plumbing, structural safety, and energy usage. "The codes protect your health and safety, facilitate mortgage financing and protect your investment," Silliboy emphasizes.
Ward's designs, engineering and materials also meet national building code guidelines, which helps to speed along the local permitting process.
Ward representatives are there every step of the way—from dream to reality. Here are just a few of the services you can expect from Ward:
Free estimates and design services
Free first sketches of your home
Plans by Ward's drafting and engineering departments
Guidance through the planning process
Referrals to experienced builders and contractors
Referrals to banks that finance log and timber homes
Regular visits to your home site during construction
It is never too early to start planning your home or log cabin. Get started today by viewing our floor plans and call us at 800-341-1566 or drop us an email.
Comments