Log Home and Hybrid Package Contents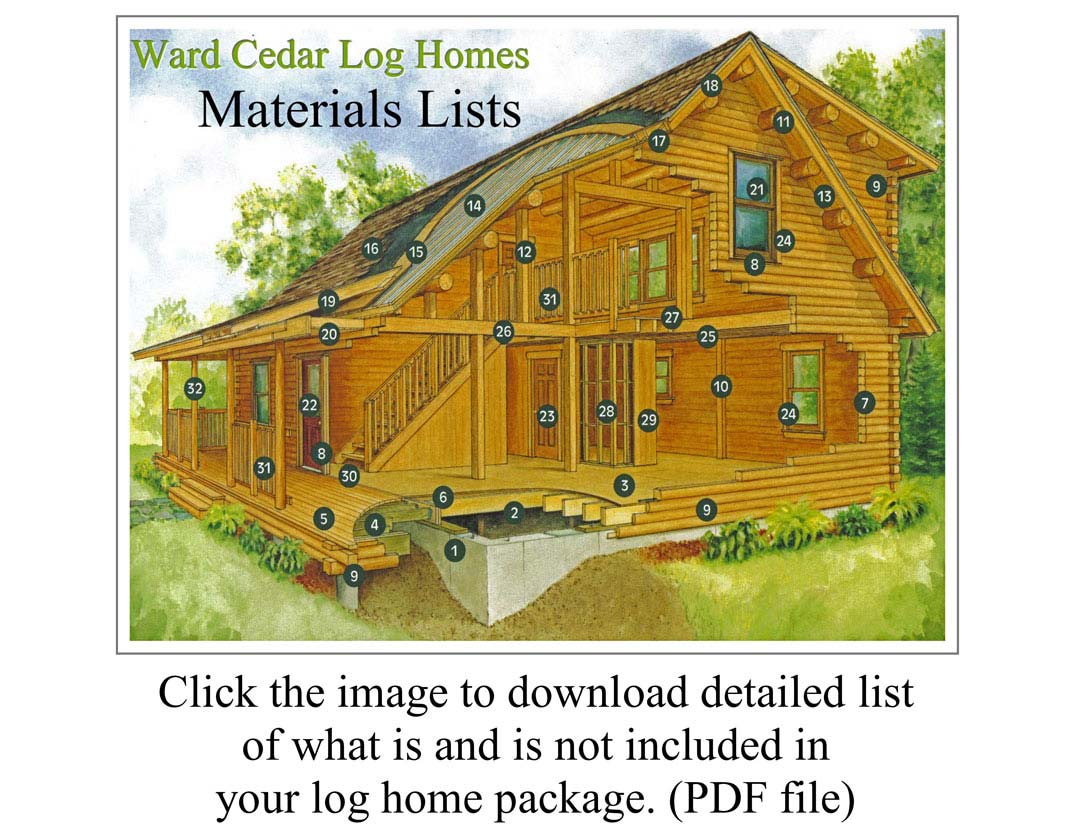 Our log home materials package is one of the most complete and pre-cut packages available in the industry. Your home arrives on site with each log precision-cut and numbered for a perfect fit. In addition, we pre-cut log gables, porch, deck, loft and stair railings. We also cut and hand-peel our own round purlins. Because we cut, plane and "care for" so much of the package, we take full responsibility for every piece. This decreases on-site labor costs and the chance for error. Feel free to modify the materials package to fit your own needs and ideas for your own log home.

All log homes are not created equal and log home and cabin kits vary from company to company. While one company may supply a "logs only" package, the next one may supply a lot more. That is why comparing the quality and items supplied in each materials package is important. After all building a log home is one of the largest investments you will make so it is important to make the right decision. You are not only buying a home, you are buying a company and it's ability to provide you with a quality home. View our Comparison Guide (PDF) to help you. We will even fill it out when you are ready if you would like. Know what you are getting before you buy. Never hesitate to ask a question. What may seem insignificant may be important.
Floor System
Sill: #1 Grade Pressure Treated Southern Yellow Pine
Floor Framing: #2 Grade KD S-P-F (Kiln Dried Spruce-Pine-Fir) with metal bridging and joist hangers. Engineered floor trusses are available
Subfloor: 3/4" T&G AdvanTech®
Porch and deck floor joists, sill & headers: Pressure Treated
Porch and deck flooring: 2x Northern White Cedar
Ice and water shield for porches and decks
Log Wall System
Pre-cut and numbered Northern White Cedar logs (screws, gaskets, and caulking included)
Pre-cut window and exterior door rough buck frames
Milled log siding and log outover corners for floor framing, dormers, porch and deck skirting. Cedar corner boards are available as an option
Interior wall and support posts with hardware, Round. Square is available as an option
Roof Options
Round log or square
Exposed rafters
Conventional rafters with ridge beam
Trusses
Purlin Roof System
Premium Grade Eastern Spruce purlin roof system - pre-cut. Round or square
Purlins supports: Round Eastern Spruce or Square as an option
1st roof boards: 3/4" T&G Pine
2x3 roof strapping, 24" O.C. (On Center)
Roof sheathing: 5/8" AdvanTech®
CertainTeed® Architectural Shingles with Synthetic Roof Underlayment
Roof blocking as required per plan
1x10 Western Red Cedar eave trim with drip edge. 1x3 fascia optional
Porch roof framing: 2x kiln dried Spruce-Pine-Fir
Porch ceiling: 3/4" T&G Pine
Truss Roof System
Includes engineered pre-fabricated roof trusses, 5/8" roof sheathing and 3/4" T&G Pine ceiling sheathing and soffit trim
Truss roof gable include framing, 1/2" sheathing and log siding
Windows and Doors
Andersen® windows, tilt-wash double-hung and casement with screens.
Therma-Tru® doors, pre-hung in primed frame with insulated tempered safety glass. Includes Schlage locksets
Solid pine interior doors: pre-hung 6-panel including Schlage locksets for all room doors and necessary hardware for closet doors
Interior and exterior trim, premium profiled pattern made of Northern White Cedar for all windows and doors
Construction
100+ page construction book
Detailed Blueprints
Loft Framing, Ceiling and Interior Partitions
Graded 4x8 or 6x8 Spruce beam ceiling joists. Hangers required per plan
Graded 6x8 pre-cut Spruce tie beams
2x RW x RL graded T&G v-match loft flooring
Framing: KD S-P-F 2x4 or 2x6 shoe, double plate, studs, blocking, headers and fillers as necessary
Partition paneling: 3/4" T&G Pine. Northern White Cedar available as an option
Miscellaneous Materials Supplied Per Plan
Loft Stairs, open, D3S, treads and stringers are Spruce. Pre-cut treads are 3x11x36, stringers are 3x10, D3S. D4S (dressed 4 sides) available
Basement Stairs are 2x12 KD S-P-F treads and stringers
Loft, stair, porch and deck railing: Cedar, D4S, 2x4 rail, 2x3 balusters, and 4x4 posts. Round rail available as option
Porch posts: Round Northern White Cedar. Square is available
Ward offers many upgrades and options. We welcome you to customize your own log home package. Log homes are engineered for your area - Snow loads, floor loads, seismic, and hurricanes. Delivering Worldwide