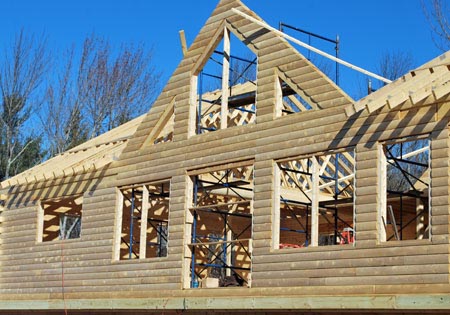 Whether you build your own home or have it built by a contractor, a Ward Cedar Log Home typically takes less time and is easier to construct that a comparable frame house. Our building system is designed to be easily understood by either professional builders or homeowners. Most materials arrive precision cut to minimize the amount of labor required on site. Each component is also clearly labeled for easy identification and to help speed construction. The builder only needs ordinary carpentry tools.
Want to build your Ward Cedar Log Home yourself? You'll find that Ward offers the industry's most complete and detailed construction guide. With more than 100 pages, this easy-to-follow manual covers all aspects of construction and provides step-by-step illustrated instructions. This, along with detailed working drawings and extensive pre-cutting, makes your home exceptionally easy to build.
Your Ward Representative will work with you every step of the way — from planning out the dreams you have for your log home all the way through to completion of your new log home. And Ward will be there for a one year inspection to make sure that you're satisfied with your Ward Cedar Log Home.

Step-by-Step Guide to Building a Ward Cedar Log Home