Hybrid Construction With Your Frame Of Mind.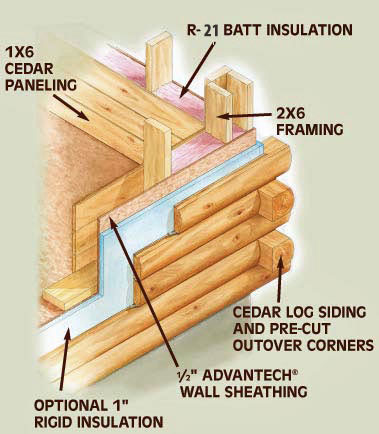 A hybrid log home provides the look of a solid log home while providing a super-insulated R-30 wall or more. It typically features framed construction and log accents combined with other construction materials such as steel, concrete, glass, and insulation, to create a unique and contemporary aesthetic while maintaining the natural beauty and warmth of log homes.
Hybrid log homes are often designed to provide the best of both worlds - the charm and character of a log home, combined with the energy efficiency, durability, and convenience of modern construction.
They can be custom-designed to suit your specific needs and preferences and can range from small cabins to large luxury homes.
Advantages of Hybrid Log Homes:
Energy Efficiency: Hybrid log homes often incorporate modern insulation materials and techniques, making them more energy-efficient compared to traditional log homes. This can result in lower heating and cooling costs and reduce the environmental impact of the home.
Design Flexibility: Hybrid log homes offer greater design flexibility, as they can combine different materials, finishes, and architectural styles to create a unique and personalized look. This allows you to achieve your desired aesthetic while maintaining the timeless appeal of logs.
Durability and Low Maintenance: Hybrid log homes are typically built with modern construction materials that are known for their durability and low maintenance requirements. This can result in reduced upkeep and maintenance costs compared to traditional log homes, which may require more frequent staining, sealing, and maintenance.
Structural Strength: Hybrid log homes often combine the strength and stability of logs with other structural materials, such as steel and concrete, resulting in a sturdy and durable home that can withstand various environmental conditions.
Customization Options: Hybrid log homes offer a wide range of customization options, allowing you to design and build your dream home according to your specific needs, preferences, and budget.
Overall, hybrid log homes provide a unique blend of traditional log home aesthetics with modern construction methods and materials both for the exterior and interior, offering a combination of durability, energy efficiency, design flexibility, and customization options. Get in touch with us on your home design.
All our standard designs can be adapted to a Hybrid or Timber Home. We also provide a custom desgin service to you, at no extra cost.
View photos of Hybrid & Timber homes.
What's provided with your Hybrid/Timber Home?
Sub Floor
Rim joist
Girders
Joist hangers and bridging
Joists
3/4" AdvanTech Sheathing
Log siding to cover rim joist
Wall System
2x6 Wall Framing
Zip panels or other sheathing for exterior walls
Log siding with choice of log corners or corner boards
R-21 insulation
T&G to finish interior wall
Other exterior options available
Windows & Doors
Andersen Low-E windows
Andersen Gliding or Patio doors with screens
Therma-Tru fiberglass doors
Window and Door trims
Gable windows
All door hardware
Porch & Deck
Pressure Treated Joist with hangers
Ice and watershield
Cedar decking
Square Cedar railing (round rail is available)
Log siding to cover rim joist
T&G for porch ceiling
Dormers
2x6 Framing
Log siding
T&G for interior walls of dormer
Other siding options are available
Loft
Exposed heavy timber joists or conventional joists
2x6 T&G V-Match subfloor
Rail for loft and stairs
Heavy timber stairs
Roof System
Purlins, round or square (Conventional rafters as option)
T&G for 1st roof boards
CertainTeed Architectural Shingles
Roof is designed for your local snow loads
Interior
Partition framing with T&G Pine
6-panel solid pine doors, pre-hung
Schlage locksets
Trims for doors