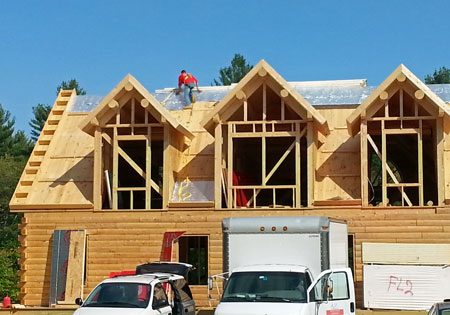 From Kit to Custom-Built Home
How does a Ward Cedar log or timber home kit go from package to finished product? It can happen three different ways. The choice is yours.
When you choose a log, timber or hybrid log home kit from Ward Cedar Log Homes, one thing is sure: you'll love your finished home. But what isn't certain from the get-go is how your home will be built. Taking your home from materials to move-in ready can happen a few different ways when you choose a Ward Cedar home.
Choice 1: DIY. You can take a do-it-yourself approach and build your own home, armed with blueprints, a materials list and a detailed construction guide with 100-plus pages of clear, easy-to-follow instructions. You'll also get on-site technical assistance from a local Ward Cedar representative or a knowledgeable pro from our home office during construction.
DIY is a tenable option for homeowners who are up for a challenge and who have a firm grasp on basic construction knowledge, including framing out interiors, windows and doors and roofing, as well as the ability to make and adhere to a construction schedule. Of course, being organized, detail-oriented and flexible will help keep the project on track.
You'll garner a sense of pride for having built your own home, and reap some serious savings for erecting the shell and finishing out the interiors yourself.
Choice 2: Be your own GC. If personally building your home isn't in your playbook, a middle-of-the-road option is to act as your own general contractor. In this role, you would be responsible for heading up the construction of your home from an organizational stand-point: hiring the builder, obtaining the necessary permits, choosing and managing the subcontractors to finish out the interiors, coordinating the pace of the project (including securing all materials and timing all construction activities) and, in the end, being responsible for the completed project.
Like a coach leading a fast-moving team, you'll need to have a solid plan and be able to communicate it clearly. (At any given time, you may be communicating with upwards of ten or fifteen subcontractors at once.) But because building a home never goes exactly according to plan, you'll also need to think on the fly and pivot when necessary.
You'll not only keep costs down with this option, you'll have the opportunity to steer each step of the construction process, leaving you with a deeper appreciation of your new log or timber home.
Choice 3: Take a turn-key approach. If your goal is to pick out a log or timber home plan, work with our in-house design team to customize it to your wants and needs, then sit back and relax, our turn-key option is for you. We can connect you with an experienced general contractor from our Ward Cedar network, and from there, every detail of your home can be contracted out.
While this option is the most costly (typically, you can plan for around three times the package cost), you'll reap all of the rewards of having a finished Ward Cedar log home without the time commitment or mental investment required to manage a residential construction project. Of course, you'll still have opportunity to add a personal touch to your home by making the interior selections, but beyond that, your only job will be breaking open the bubbly to celebrate your new completed home.
Contact us today to begin your log home journey.
Be sure to follow us on Facebook, Pinterest, and Instagram for inspiration, events, tips and more!
Comments