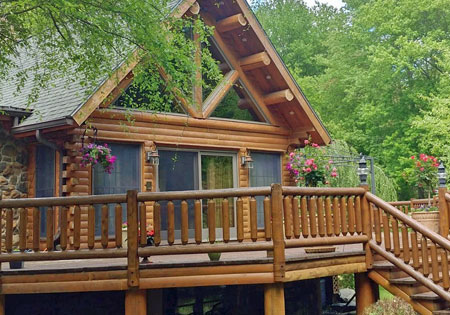 Take it Easy
Simple steps to creating a stress-free log home
A well-designed home has always been synonymous with words like, refuge, haven, sanctuary — a place of escape from the outside world. While log, timber and hybrid homes, with their cozy, wood-scented interiors, seem to achieve "haven" status effortlessly, zeroing in on certain design features can take your space to the next level of relaxation. Read on for our top three tips for designing a soothing, stress-free Ward Cedar log or timber home.
Think Natural. It's no secret that interacting with the natural world has a direct and tangible effect on stress levels. But you don't actually need to be in nature to reap those benefits. For starters, filling your home with organic materials has a positive impact on both emotional and physical well-being. Thankfully, building with our Northern White Cedar logs or timbers gives you an automatic head start in this area; continue the trend by adding layers of natural-based elements, such as stone (granite countertops or slate floors, for example) and furnishings (think: leather sofas, wool carpets and linen draperies). Additionally, you can bring the outside in by including large windows — already present in many of Ward Cedar's log or timber floor plans — to usher in natural light and views of nature, both proven mood-boosters.

Plan for Storage. While the connection between good storage and lower stress levels may not seem obvious at first glance, there are no shortage of studies and statistics on the correlation between clutter and mood. An organized home creates a naturally lower-stress environment, but having a place for everything doesn't happen by chance. While designing your log, timber or hybrid home, keep an eye towards incorporating storage solutions that will give all of your belongings a designated home, whether it's a mudroom near the garage, a butler's pantry off the kitchen, built-ins in the living room or extra cabinetry in the master bathroom. Our in-house design experts can help you settle on a plan that's right for you and your "stuff," and our in-house engineering team will make it a reality in your new log or timber home.

Add Time-Saving Tech. Incorporating "smart home" features that will simplify your daily routines and remove mental worry (like "Did I really close the garage door?") will get you one step closer to a zen-like log home. While the types of connected products you choose will depend on your lifestyle, some top picks include, smart home thermostats, lighting, door locks and sprinkler systems. Lastly, consider planning for indoor wiring for a home sound system that will allow your favorite tunes to fill your log or timber home's interiors. (Not sure where to start? No worries, our design and engineering teams can help with that, too.)
Contact us to get started designing your log or timber home today — and ensure you have a haven of relaxation for years to come.
Be sure to follow us on Facebook, Pinterest, and Instagram for inspiration, events, tips and more!
Comments