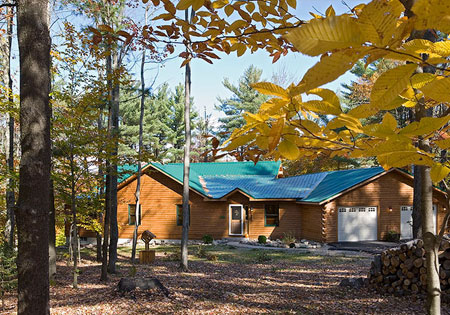 Now and Then:
Strategies for designing a home that will fit your needs now and in the future.
When you build a home with Ward Cedar, you can be sure it will last. Since 1923 — nearly 100 years! — we've established a track record of building quality homes with tried-and-true longevity. It's one of the reasons why homeowners planning to build a "forever" home come straight to us.
But it's far from the only reason.
We also offer a range of floor plans and a team of designers that will ensure your home suits your needs perfectly today and later. If you're planning to put down permanent roots in your Ward Cedar log or timber home — even if that day seems like a long way into the future — making design decisions now that will boost your home's future functionality will help you avoid the high cost and hassle of renovations down the road.
Here are some of our time-tested design practices that will make your home a place you and your loved ones can enjoy for years to come.
1) Look to Single-Level Living
While stairs may be a minor inconvenience today, down the road they may pose a significant obstacle. For this reason, we recommend embracing ranch-style living in your retirement home. While you may still include a loft or basement with additional living spaces or recreation areas for guests, it's key to include spaces you access daily (think: master bedroom, laundry room, etc.) on the home's main level.
Additionally, consider interior access points. If your home's main entrance involves steps due to the topography of your site, engineering a step-less entry from a garage may be in order.
2) Open Up
In recent years, open floor plans have become the standard of modern living — a fortunate fact that lends itself well to those in their golden years. Hallways can prove troublesome in the event that wheelchair accessibility becomes necessary. By removing walls (and the difficult-to-navigate hallways and doorways they create), your home will be much easier to access through all seasons of life. If wheelchair accessibility is a priority on your building list, we can customize your home with larger doorway openings and walkways.
3) Think Small
And we aren't talking about downsizing — although that is often a consideration of those looking to maintain less square footage in their senior years. We help guide our clients through the design details of aging in place, such as including easy-to-access walk-in showers and tubs, as well as slip-resistant flooring in the master bathroom. Other considerations: including additional eye-level lighting in the kitchen, bathroom and hobby rooms; opting for illuminated light switch plates; and choosing easy-to-open lever door handles on cabinetry and interior and exterior doors.
If you're interested in hearing more retirement-ready design tips and strategies to incorporate in your Ward Cedar home, reach out to our team today. We are ready to help you live your best life in a log or timber home today … and long into the future.
Be sure to follow us on Facebook, Pinterest, and Instagram for inspiration, events, tips and more!
Comments