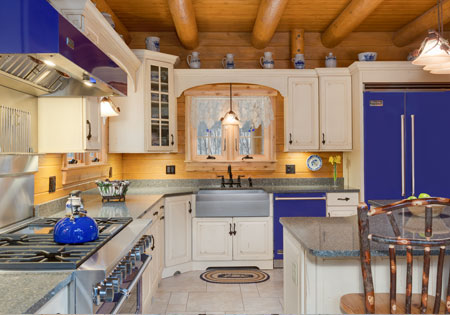 Fresh Ideas for Your Kitchen
The kitchen was once considered the workhorse of the house, but today, it is more than just a functional space centered on sustenance. Instead, it is the heart of the home, a space where people come together to enjoy family traditions and make memories.
Such an important space deserves special design attention. Creating a kitchen with a purposeful plan will allow it to better serve your family. Thankfully, every Ward Cedar kitchen can be fully customized to your preferences, down to the last detail. But while it's just one room, the possibilities are nearly endless. So where do you start?
Designing a kitchen that functions well for your crew begins with envisioning the look and feel you want. Is it wide open to the rest of the home, a place where you can easily gather with friends and family? Or is it cozy and tucked away into a quiet corner of your home?
Once you've settled on a plan (open vs. closed) and placement (many of our clients prefer the kitchen to be located off of a mudroom or an attached garage), you can continue to personalize the space to your lifestyle.
Beyond the basics, such as quality appliances, cabinetry and countertops and good lighting, here are a few custom features to consider adding to the design plan of your new log or timber home kitchen:
- A butler's pantry. Outfitted with cabinetry, countertops and even features like a sink or wine fridge, a butler's pantry takes a traditional pantry to the next level. Besides offering storage for food items and appliances, this space can also be used to prep food and keep the clutter of meal prep out of sight, an especially welcome benefit in open-concept plans.
- A built-in eating nook. Opting for a built-in banquette over a bulky dining room table will not only save you precious square footage in a smaller cabin, but it may also turn out to be one of the most charming spots in your home. Situate this casual dining spot near a wall of windows to add even more appeal.
- A lowered ceiling. If your kitchen sits under vaulted ceilings, designing a loft into the space will bring down the ceiling over the kitchen, helping to define the area and add a sense of coziness. (Plus, you'll benefit from extra livable space at a minimal cost!) Incorporate exposed beams, tongue and groove or even corrugated aluminum overhead for an extra boost of style.
- A double island. If you love to cook and entertain, consider adding a secondary island to your kitchen. While one island is used as workspace (and can even include a smaller secondary sink to help with meal prep or serve as a beverage bar), the other will stay clean and clear for additional counter seating. Another benefit to twice-as-nice islands: double the storage space!
- A cozy fireplace. The ambiance a crackling fire adds to a log or timber home is unmatched. Depending on your plan, you may be able to create a double-sided fireplace that can be enjoyed in your great room and kitchen, or you may be able to situate a secondary gas or propane hearth against an outer wall. For warmth without the added expense or construction hassle, opt for a freestanding metal stove, which can be easily vented and installed.
What other kitchen features are on your must-have list? No matter how simple or stand-out, we are ready to help you turn those wishes into a real-life, log or timber dream home today.
Contact us today to begin your log home journey.
Be sure to follow us on Facebook, Pinterest, and Instagram for inspiration, events, tips and more!
Comments