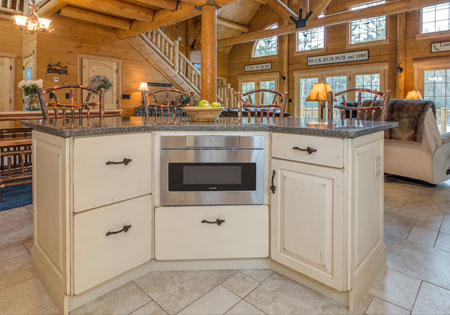 Flooring Solutions For Your Whole House
Deciding to build a log cabin or timber hybrid — though not a small decision — it could be argued is an obvious one. After all, both building systems are proven construction methods that promise longevity and an unmatched aesthetic.
But once you've made the choice to build, what isn't always as clear is what other materials to fill your log home or timber hybrid with. One of the most foundational decisions when it comes to finishes is flooring. Not only does it have to perform and function well, it also needs to look good, too.
Before settling on flooring for your new home, read through our run down of the best hard flooring suggestions for every space.
Hardwood
A tried-and-true classic, real wood floors are a natural fit for a log cabin or home. Highly versatile, they can take on a more sleek, contemporary look or maintain rustic or antique appeal depending on the stain and finish chosen. Keep in mind hardwoods and water don't mix, so it's best to skip them in the kitchen, bathrooms and below-grade spaces and let them shine in living and dining areas instead. If your heart is set on a wood look in water-prone spaces, opt instead for engineered hardwoods, which can handle limited exposure to water better than their solid wood cousin.
Vinyl Planks
For the look of wood floors without the upkeep and worries of scuffs and scratches, look to vinyl planks. (Those with a textured surface are most realistic.) Besides being an ideal choice for a high-traffic home, they are also impervious to moisture, making them a great choice for basement applications. The have a softer and warmer underfoot feel than their real wood rivals, so using them in the bedrooms makes sense, too.
Tile
Tile floors come in a range of offerings, from affordable ceramic to more refined porcelain. Though they can be prone to chipping and cracking, both are water resistant (though porcelain has the edge here). This makes them the frequent stars of entrance areas, kitchens, bathrooms and laundry rooms. Both materials also come in an astonishing array of colors and patterns, so your style options are virtually endless.
Unconventional Options:
Marmoleum
An updated take on linoleum, this sustainable flooring is made of natural materials, including wood flour, pine resin and linseed oil. Any of the 150 available colors offer anti-bacterial properties and a comfortable underfoot feel but may be prone to staining and dulling over time — a result of microscopic scratches on the surface created by tracking on dirt and debris.
Comments