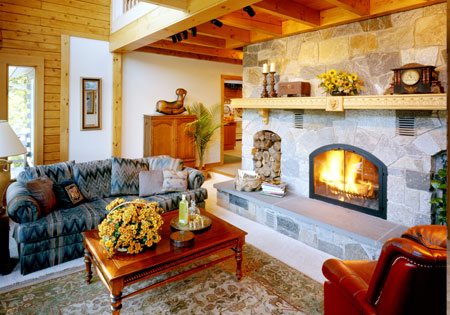 A log home may not be for everyone. This is where Hybrid Homes come in. Although not new, they have become more popular over the last decade. A hybrid log home offers more flexibility to let your creative ideas come together. You have the ability to combine many features such as logs, log siding, stone, T&G boards, round or square timbers, stucco, drywall, and other siding accents. The possibilities are endless. A Hybrid Home allows you to have both the interior and exterior designed to your ideas, desires, and needs.
Ward's Hybrid System provides the look of a solid log home while providing a super insulated R-30 or more wall. All of our standard designs can be adapted to a Hybrid Home. Or we will work closely with you to design a custom home that fits you and your family.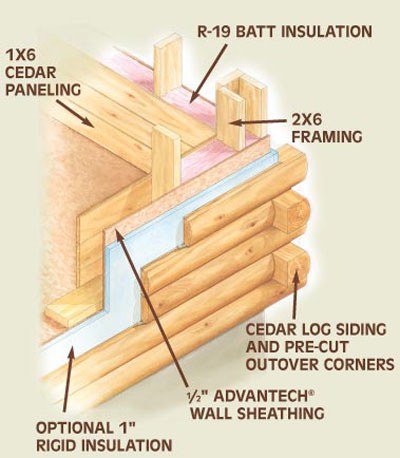 Reasons to consider a Ward Hybrid Log Home are;
Superior Energy Efficiency - For extreme climate conditions or when you're building in areas with prescriptive energy codes.
Use of Northern White Cedar - This superior wood naturally resists the issues associated with moisture and insects, protecting your home investment for years to come,
Exterior look flexibility - The Hybrid Home's insulated walls can look exactly like a traditional solid log wall - unless you desire a different look. You can also choose clapboard-style exterior walls if you prefer.
Lots of Choices Inside Too - Your interior walls can be finished with T&G paneling or Cedar half-log siding for a full log look. another popular choice is drywall, allowing you to decorate with paint or wallpaper.
You can even choose your corners - The standard package comes with full-log corners. Or if you like, you can specify corner boards to coordinate with clapboard or log siding.
Easy to understand construction - The construction methods used for the Ward Hybrid Home are familiar to builders and contractors everywhere, even in areas where log home construction is not as common.
Less expensive than a full log home - If you want the look of a full log home, but are looking for ways to reduce cost then a Hybrid Home may be for you. Since only the walls are constructed differently than other Ward Log Homes, the rest of the package remains the same.
Custom home planning for your dream home - All of our designs may be modified to meet your own desires or go completely custom at no additional cost to you. As with all our log homes, our packages include all the quality components and materials you'll need, along with the support of our designers to ensure your home is just what you've been dreaming of.
Take a look at some Hybrid log home photos to start imagining your home design.
It is never too early to start planning your home or log cabin. Get started today by viewing our floor plans and call us at 800-341-1566 or drop us an email. Complete custom log home plans are also available.
Connect with us on Facebook and Instagram
Comments