Three Tips From The Professionals - What You Should Know Before Buying a Log Cabin Kit
Posted by Ward Cedar Log Homes in Log Homes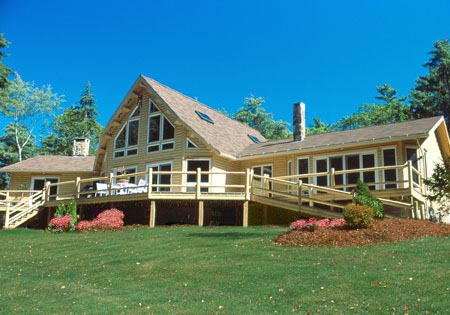 With over 500,000 log cabin kits in the U.S; they are by far the most popular type of traditional American home you will find.

Log cabins enable sustainable living. Living so close to nature helps reconnect people with the great American outdoors.
In today's modern busy world, many people want to escape to nature and live a simpler life, however, building a log cabin takes time and skill.
This is where kit builds come into play.
Log cabin kits are perfect for people who want to build their own home but require help designing a floorplan and milling/preparing the logs.
But what should you know before buying a kit?
Read on to discover our three top tips.
Tip 1 - Cost of the Log Cabin
Before you start looking for a log cabin kit, it's important to think about your budget and how much you'd like to spend in total.
To do this you'll need to understand how to price different aspects of your build. There are two general costs that you will need to account for:
The kit cost
The finished cost
Typically, log cabin manufacturers include the log walls, roof and windows and doors in their kits, however this doesn't account for other costs such as laying the foundations, buying the land, labor and the interior finish.
Buying the actual kit typically accounts for 40% of your final budget.
For example, if you have a budget of $100,000, you should spend no more than $40,000 on your kit.
A log cabin built from a kit comes with a finished price tag of anywhere around of $125 per square foot.
Tip 2 - Choosing the Right Manufacturer
Knowing how to choose a reputable log cabin manufacturer can give you a real headache if you don't know what you're looking for.
With hundreds of companies to choose from, it can be overwhelming to know where to start. Some offer quality kits, some offer cheap kits and although it may be tempting to buy as much as you can for as little as possible, you get what you pay for.
If you want your log cabin to last for generations, choose quality over low prices. If you do enough research, you'll probably be able to find a happy medium.
There are two things you should be looking for when carrying out checks on the manufacturers.
Service and Aftercare
Does the company offer any assistance once you have purchased the kit? Will they visit the site to provide this assistance?
It's also important to find out whether the manufacturer offers an installation service, even if you do not intend to use it. Do not use the company them if they don't. Most reputable suppliers will offer and installation service.
Does the kit come with warranty? Reputable companies will offer a warranty of at least 10 years, perhaps with maintenance schedule which you must follow.
Manufacturing Process
The best way to carry out this check is to go and visit the factory or mill in which the log cabin kits are being processed.
Has the wood been grade stamped?
Talk to both the owners of the company and the people on the floor doing the work.
You'll get a good idea of how much they are invested in their work from a short conversation. You'll be able to tell if they are passionate craftsmen or technicians.
Tip 3 - Wood Type
There are specific types lumber that are better suited to being used in log cabin builds.
However, the type of wood you choose is also a matter of personal preference.
In the U.S, log cabin kits are normally built using; Pine, White Cedar, Cypress and Spruce.
The price will depend on the type of lumber you use. If you choose to build using cedar instead of pine, you can expect to pay at least $15,000 more.
This is because cedar is a premium log cabin building material.
You may also want to choose the type of wood based on its appearance, R-value and the availability in your area.
The most important things you'll need to check with the lumber, is that it has been grade stamped and dried correctly, either kiln dried or air dried for the right length of time.
Conclusion
In summary, you should:
1. Decide on your final budget and allow up to 40% for the log cabin kit,
2. Choose a reputable and quality manufacturer,
3. Decide on your wood type.
Living in a log cabin makes you feel closer to nature, being surrounded by many logs. Given that America is an area of true natural beauty, log cabins can only enhance your surroundings.
Living in a log cabin can not only make you feel closer to the outdoors, but if you choose the right location it will also bring you closer to the America outdoors; the wonderful mountains, rivers and lakes.
Choosing to build with logs is a sustainable building choice, and providing you choose a reputable and quality company, you will create your dream American home which will last for generations to come.
It is never too early to start planning your dream log home. View our floor plans or give us a call at 800-341-1566 to discuss the possibilities. Or drop us an email.
Comments