Three Design Series Explained
Posted by Ward Cedar Log Homes in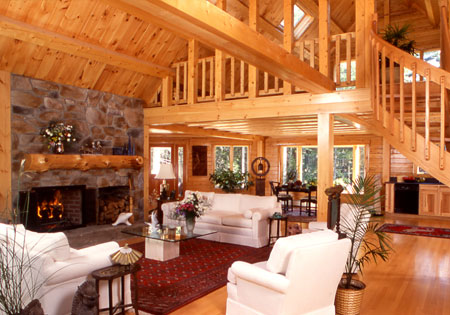 When you work with Ward Cedar Log Homes, a home is created just for you – a home shaped by your individual tastes and preferences. No two homes are alike. You have the choice from starting with a plan from any one of our three design series to use as a springboard, making any modifications you wish, and combining features from one home plan with another. Or go completely custom.
The most popular series is the Premier Series. From the traditional Lexington log cabin style with a full-length porch to the spectacular Sedona with its exposed round purlin roof system and walls of glass, the Premier Series offers the greatest design variety, with many home styles and floor plans to choose from. In addition, all Premier homes feature the best quality components in the most complete building package we offer.

When you are looking for a more cost-efficient log home, choose the Cedar Valley Series. These gracious homes are designed with generous living space, style and affordability in mind. Take the Cedar Lane for example. This home has spacious living with four bedrooms, attic truss roof to save you money, gable dormers, and a front porch to enjoy outdoor living. You can be assured that high quality logs and brand-name components will be part of your Cedar Valley package.

Last but not least, for the adventurer in all of us, Ward offers the delightful Camp Series. With several models to choose from, you'll find the perfect plan for your lakeside retreat, ski lodge, cottage by the sea or cabin in the woods. Because we use shorter Northern White Cedar logs in our Camps, this series is the most affordable option, bringing the cost of a vacation home into easy reach. And with its extensive use of cedar throughout, you'll have the benefits of a beautiful second home that's easy to care for as well as maintain.

Don't see a plan that you like? Bring us photos of home styles you love or a rough floor plan sketched on paper. What was once just a dream – is now a glimmer of possibilities that will be brought to life. Let us help you design a log home plan that is unique to you.
It is never too early to start planning your home or log cabin. Get started today by viewing our floor plans and call us at 800-341-1566 or drop us an email.
Comments