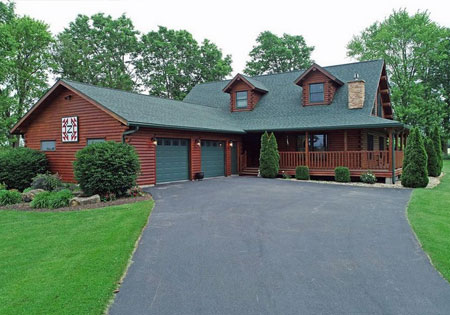 Tips on picking the right site for your Ward Cedar Log Home

You've purchased your land, your design includes all the features you've ever wanted and now, you can't wait to start construction of your Ward Cedar Log Home.
But where will your home go on your land?
Siting is just as important as design, quality manufacturing, and a reliable builder.
You might be tempted to build among an existing stand of maple, oak or fir trees. But devastating wildfires argue in favor of creating open space around your home for safety's sake. What's more, constant moisture, autumn leaves staining the roof and pine needles clogging the rain gutters are more reasons why your new home needs breathing room.
Practically speaking, you will need a professional engineer and licensed land surveyor to locate your home so that it meets local setback requirements, and to specify ample distance between your well and septic system.
How far from the road? The farther your home is from road the more it will cost to bring in utilities. On the other hand, a long gently curving driveway enhances privacy. Generally speaking, if the abutting homes are visible to passersby, consider locating your home about the same distance from the road as your neighbors to preserve the "streetscape."
Walk your land. Bring along a surveyor's tape, stakes, mallet and string to mark the perimeter of where you might want to locate your home. Your builder will likely do this for you.
Don't rush. The first floor will about four feet above grade, so climb up on a stepladder, or pickup truck-bed to check out the view from your windows. Build a scaffold to preview the second story views, as well.
Your "string house" will reveal flaws in locating the driveway, outdoor recreation areas, garden plot and so forth. Hold up a bamboo pole equal to the height of the ridge line to determine where shadows will fall. Make note of which trees will go and which ones will remain so that they can be tagged and protected with hay bales.
On sloping or hilly land, the highest elevation, may seem ideal. However, building slightly below the crest will nestle your home into the terrain without interrupting the vistas. You can then build a patio with a fire pit at the highest elevation to create a dramatic spot for outdoor entertaining.
Throughout the process, be sure to work with local officials on the zoning and design review boards and the building department, whose help will be needed to pass inspections and finally get your long awaited, "Certificate of Occupancy."
With planning and cooperation, your new Ward Log Home project will go smoothly and soon become a dream come true.
It is never too early to start planning your home or log cabin. Get started today by viewing our floor plans and call us at 800-341-1566 or drop us an email.
Comments