Out With the Carpet-Flooring Choices for Bedrooms
Posted by Ward Cedar Log Homes in Log Homes Floors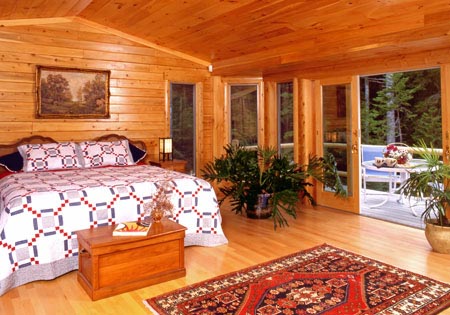 Carpet feels comfortable and warm under your feet; however it can be boring and hard to keep clean, especially if you have severe dust allergies. Check out other flooring options that you can choose to fit your design style and needs for your log home.

Hardwood Floors
Hardwood flooring is one of the most popular choices for bedrooms, especially in log homes. This flooring can be combined with throw and area rugs to customize the look in the room. There are many looks you can get based on species of wood, grade, stain and the cut. Benefits of hardwood include:
Can be sanded and refinished so there is no need for replacements
Is considered one of the best flooring options on the market
Adds to your home's value
Offers a variety of colors to suit your style
It is hypoallergenic
Easy to clean – no more carpet stains

Engineered Hardwood Floors
If you are looking for an alternative to hardwood, the engineered hardwood flooring may be for you. This flooring is made of several layers of wood that is fused together. With the variety of species, widths, and finishes, you are sure to find the perfect match for your home. Benefits include:
Expands and contracts less than hardwood
Variety of colors, species and finishes
Lower cost than hardwood
Easier installation
Can be installed over concrete
May be used with radiant heat

Cork Flooring
Cork is gaining in popularity as a flooring option. It is soft, spongy, and can help make a bedroom feel relaxing. Cork is comprised of tiny air bubbles which serve to insulate the room and help with noise. On the flip side it can be easily scratched and can only be refinished a couple of times before having to be replaced. Lower traffic areas would be ideal for this type of floor. Benefits include:
It is healthy – Naturally resistant to mold, mildew, and termites
Comfortable under your feet due to its give when compressed
It is versatile meaning cork is available in tiles and planks that offer many sizes, style and colors
Practical – The pattern and color of cork penetrate the thickness of the material so as it wears it is retained, which lengthens the life of the flooring

Vinyl Flooring
When it comes to flooring for your bedroom, many do not think of vinyl. Vinyl is versatile coming in many different colors and patterns. It can be combined with underlayment padding to get the soft feel and warmth. The flooring is easy to care for and today, vinyl planks are available that look like wood or stone tiles. Benefits include:
Affordable
Quiet
Water resistant
Durable
Can be installed over existing floors

Laminate Flooring
With this type of flooring you can achieve the look of real hardwood without paying the premium. Laminate can be combined with padding to make the surface feel soft and insulated. The surface is a very thin piece of natural material and is protected under an invisible wear layer that prevents staining. Some drawbacks are that the surface cannot be refinished like hardwood and will wear overtime. Benefits include;
Scratch resistant and durable
Clicks together for easy installation
Low cost and low maintenance
May be installed over most existing floors
Resists fading from UV light

Tile Flooring
Tile flooring makes for easy installation and cleanup. This flooring can come in many colors, patterns, and a few different sizes to match the style you are looking for. Installed in warmer climates will give you that cool feeling under your feet. Benefits include;
Waterproof – Good to use in many rooms throughout your home
Low maintenance
Increases your home's value
Relatively ease of repair – Only replace the damaged piece(s)
Easy installation
Many styles, textures, colors, and wood-like tiles available
With many different flooring options to choose from you can get the style and feel that you are looking for in your home. With the proper research you can be sure to make the right decision. Don't just read reviews online, getting real samples and taking them home to see what best will match is a great idea and makes your decision easier to make.

Ready to start planning your dream log home? View our floor plans or give us a call at 800-341-1566 to discuss the possibilities. Or drop us an email.
Comments