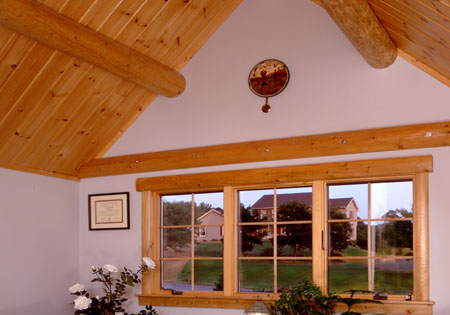 When you hear the name Ward Cedar Log Homes, you may think we only produce log homes, however we do much more than that.

In recent years there has been an uptick in remodeling projects, repairs, etc. Another area that has seen more interest is Hybrid Homes. A Hybrid Home offers more flexibility to let your creative ideas come together. It can be a combination of log walls and heavy timbers inside or a conventional framed home with timber accents. You have the ability to combine many features such as logs, log siding, stone, T&G boards, round or square timbers, stucco, drywall, and other siding accents. The possibilities are endless. The photo above is a client's home where they used drywall and incorporated round timbers for the roof structure and Cedar trim for the windows.
We have had homeowner's in conventional built homes purchase timber accents such as exposed ceiling joists and heavy timber stairs. It all comes down to the look you are trying to achieve.

We understand a log home may not be for everyone; maybe you are just looking to add a touch of comfort with certain wood components in your new or existing home. Whatever it is, Ward Cedar Log Homes can help. We offer decorative as well as structural beams/timbers, log siding, cedar decking and railing, heavy timber stairs, exposed timber ceiling joists, cedar and pine T&G, 2x T&G flooring, and posts. Whether you are remodeling, building a shed, looking to add outside living space, or building a hobby room, give us a call and we may have just what you are looking for. View our wood components that you can incorporate in your home.
It is never too early to start planning your home or log cabin. Get started today by viewing our floor plans and call us at 800-341-1566 or drop us an email. Complete custom log home plans are also available.
Comments