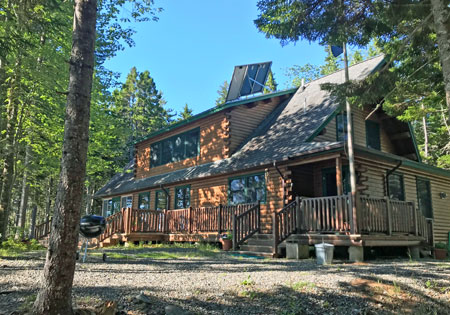 Financing for Your Log or Timber Home

While some home buyers are able to pay cash for their new builds, by and large, most folks who build a Ward Cedar log or timber hybrid home choose to finance their purchases. And, while many buyers have previous experience obtaining a conventional home mortgage, financing a log home is a unique process with its own set of rules and requirements. Because we are committed to helping you through every step of achieving your log or timber home dreams here at Ward Cedar, we believe it's essential to provide you with the information and resources you'll need along the way. Below, is a three-step primer to help get you started in the log home financing process.
Find a lender that has experience with log and timber home construction. Because financing a log home is a unique process in the mortgage world, lenders knowledgeable about log home construction details will be able to streamline the paperwork and highlight areas that a traditional lender may miss. (Check our recommendations page or ask your builder for suggestions.) Beyond the usual financial statements (W2s, pay stubs, bank statements, etc.), be prepared to hand over information including, but not limited to, building permits and working floor plan; an estimate of costs, including a bill of materials and builder costs; a land deed and survey.
Obtain not just one loan but two. When building a log home, you will need a short-term construction loan that will cover the labor and materials used to build your home, as well as a more traditional, long-term mortgage loan for the cost of the home itself. Keep in mind there are two types of construction loans: a two-time close, which requires the construction loan be refinanced into a new permanent mortgage after the home is finished, requiring you to re-qualify and pay closings costs twice and a one-time close, which will convert the construction loan to a long-term mortgage automatically, requiring only one qualification period and a one-time payment of closings costs. Also, know that the funds available in your construction loan will be released by the lender as you finish various stages of building, so you'll only pay interest on the amount drawn up to that point.
Be clear on payment terms and timelines from the get-go. Keeping to a building schedule is one of the biggest challenges of creating a home from the ground up. While there could be construction hiccups, financing issues needn't be the cause of a delay. Most log home companys require a deposit and payment in full at delivery of your log package, so it's essential your funds are available when needed to keep your building timeline on schedule. Verify the payment terms with your dealer, and triple check that your lender will be able to meet these pay-out requirements.
Just like designing and building a log or timber hybrid home is often a result of years of dreaming and planning, building a strong financial foundation for your log home doesn't happen overnight. Give yourself ample time to work through the financing process and find the lender and log home construction loan that works best for you.
Contact us today to begin your log home journey.
Be sure to follow us on Facebook, Pinterest, and Instagram for inspiration, events, tips and more!
Comments