Delivery Day - What is Needed?
Posted by Ward Cedar Log Homes in Log Homes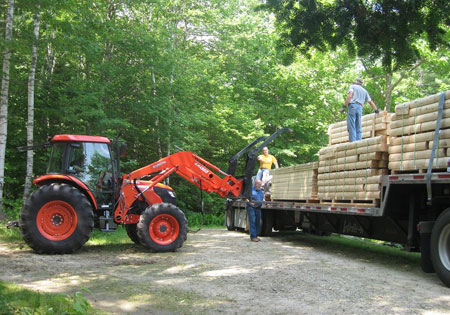 The delivery of your log home is a busy and exciting day. Proper preparation prior to delivery will go a long way making sure everything goes smoothly and as planned when the truck(s) arrive.

As you prepare your site, remember that the trucks are 8 feet wide, 14 feet high and up to 65 feet long. They require a large area to maneuver into position to unload. An area of 20'x40' per truck is needed for the material to be placed.

Another item to prepare for is to have a forklift on site to unload the materials. Having the right forklift for the job will make unloading easier. Required forklift specifications are;
Forks: Two 4 foot long forks with adjustable spacing from 36" to 72" apart.
Lifting Capacity: Minimum 6,000 pounds
Lifting Heights: Minimum 12 feet
Traction and Tires: Care should be taken in matching the forklift to site conditions. Small tired forklifts or backhoes with fork extensions have poor traction or low lift capacities and are usually not acceptable. Rough terrain forklifts or lulls are best and may be found at lumber years, small saw mills, or forklift rental dealerships.
To help you determine which forklift will do for the job, below are the typical package sizes;
Lumber: Up to 4 feet wide by 18 feet long by 2 feet high. Weight is up to 4,000 pounds.
Shingles: 3 feet wide by 4 feet long by 4 feet high and weight up to 5,000 pounds.
Plywood: 4 feet wide by 8 feet long by 4 feet high and weight up to 5,000 pounds.
Windows, doors, millwork, and hardware: 4 feet wide by 8 feet long by 8 feet high and weight up to 4,000 pounds.
Purlins and Beams: 4 feet wide by 18 inches high by up to 44 feet long and weight to 5,000 pounds.
Wall Logs: 4 feet wide by up to 10 feet long by 4 feet high and weight up to 3,500 pounds.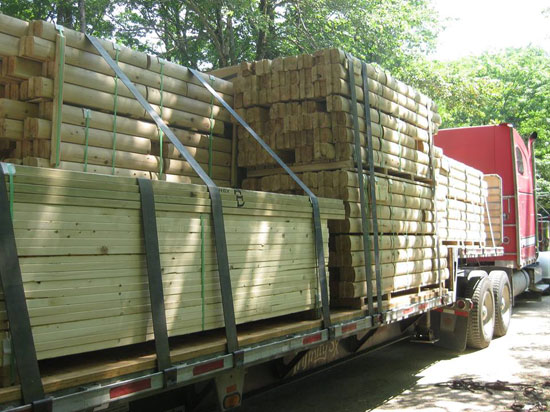 With the right tools and planning, delivery day can be an easy success without any hiccups, and then you are well on your way to begin building your dream log home.
It is never too early to start planning your home or log cabin. Get started today and call us at 800-341-1566 or drop us an email.
Comments