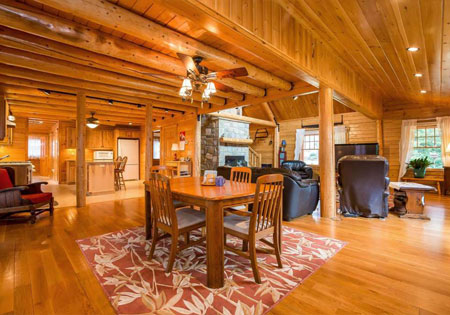 Expert design tips for your open floor plan.

Everyone loves the open space kitchen-dining-great room concept for their dream home. In addition. An open layout is, of course, wonderful for informal barbecues and family gatherings. But doing homework, reading, cooking, playing video games and watching TV in one big open area may be more togetherness than you want.

To balance the open space with the need for privacy, Ward Cedar Log Homes went to top Boston interior designer Kristen Fitts for advice.

Q. How can I break up the space?

A. Break the area into thirds — kitchen area, dining area and your living space. Having steps leading down to your living area can be way of differentiating the space while still keeping it open.

Q. I love my great room, but during holidays I miss having a dining room. What can I do to make my holiday dinners special?

A. With an open floor plan you do have to get creative come holiday time. Luckily, it's easily done with special dishes, table linens and flowers to elevate the dining space. Break out the china, create a beautiful table scape with seasonal greens and don't be afraid to use crystal glassware!

Q. Are there any tricks to defining areas visually?

A. Carpeting is a great way to define a space. I love a large sisal carpet trimmed to fit the shape of the room. It adds texture and warmth and makes the space feel customized to your home. Then add boldly patterned overlay carpets to define specific areas. I also love sectionals. They define space and add comforting appeal to your home. Also, contrast your log interior with plaster walls that can be painted or wallpapered to visually define areas using texture and colors that add warmth and personality.

Q. My kids love playing in the loft. But overnight guests want privacy. Any suggestions for creating privacy without having to wall in the loft?

A. Japanese shoji screens area easily purchased online. They are perfect for privacy and adding a decorative element to your loft

Q. I like involving my guests in cooking. Any thoughts on designing my kitchen?

A. A large center island is wonderful for entertaining, you can have seating on one side and storage on the other. I love a prep sink in an island, that way friends and family can participate in meal prep without being in the way of the oven or range.
Q. Any suggestions for defining space with lighting?
A. Lighting over your island and kitchen table will not only help define the space, but add another custom element to make your log home uniquely yours. Recessed lighting is nice, but you do need to pick and choose where you build in your fixtures in an open plan. Too many can be a distraction.
Q. What about accessorizing?

A. Accessorizing is where you can have some fun! Pillows are an easy way to add pattern and color without a huge commitment.
Kristen Fitts is a residential interior designer with over 20 years of experience.
It is never too early to start planning your home or log cabin. Get started today by viewing our floor plans and call us at 800-341-1566 or drop us an email.
Comments