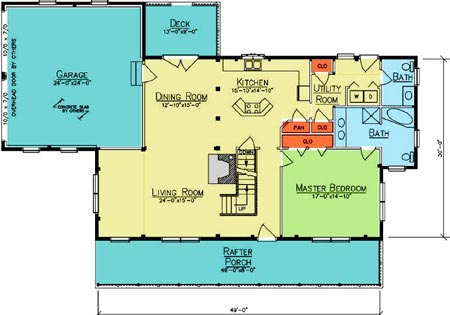 You are ready to build your dream home and you have thought it all through, or have you? You have spent lots of time thinking about exactly what you need and want to have in your new log home, but have you taken into consideration what you don't want or need? Not only do you need to take the time to think about what you need, but you need to think about what doesn't work as well.

Proper planning and budgeting can go a long way and doing so you can avoid inconvenient and costly mistakes. When you design and build your new home, you must look at many angles. Think about how your lifestyle is currently and what you would do to make it better or easier. Will you be getting older and need a simpler floor plan? Do you entertain? Are you planning to expand your family or will you soon be empty nesters? Taking all these into consideration is important when planning a new home. Poor design choices can make your home feel uncomfortable and costly. Here at Ward Cedar Log Homes, our staff is here to help you make effective decisions. We will help guide you through every small detail and where you can save a few dollars or where you should not cut corners.

Let's take a look at mistakes you should avoid.

1. Poor Planning When it Comes to Space

Planning the space in your home is crucial. Of course if you have the budget to build a large home this may not apply. Storage is a major concern today when there are so many things to be put away in limited space so ample storage space is essential; however where you plan to place the storage is smart planning. Convenience indicates that objects be stored near where they are to be used and that each object be easily available. Do you need a closet near your entry? If you live in an area where coats, boots, gloves, etc. are needed for the better part of the year then it would be wise to place a closet as you enter your home. If you don't need a coat closet then don't build one. You should have a closet for each bedroom and in a hallway if your design allows. Remember that too many closets can take away from living space so plan accordingly.

2. Don't forget about your HVAC system.

The last thing you want to do is build your new log home and have issues with moisture or mold growth. Proper planning with your HVAC system is important. Determine the right size of unit you will need. If you end up with a smaller unit it will not perform as it should and result in inefficiencies of cooling and heating your home. The same for the reverse, if you buy a system too large, then too much energy will be used.

3. Dim lighting

Investing in beautiful overhead light makes a lot of sense. Layering lighting is a way to make a room more visually interesting and more functional. You can do this by having your overhead light fixtures and adding table or floor lamps for secondary light. Light fixtures should be plentiful. The same goes for windows. Adding natural light to your home can be an energy saver and should act as your main source of light during the day. If you are unable to have a window or add more windows to an area, think about adding skylights to bring in natural light.

4. Placement of Bedrooms

Bedrooms need privacy, good ventilation and quietness. In one-story homes, they are usually grouped together in the quietest part of the home, sometimes in a segregated wing. Children's and adult's bedrooms can be separated in the home to give privacy to each age group. You can have the center of the home where your Great Room, Kitchen, and Dining areas lie and have 2 wings off those areas with a master Suite on one side and the kid's bedrooms in the other wing.

In the typical two-story home you may find all bedrooms are on the upper floor away from other activities, but placing bedrooms on more than one floor also has advantages, especially when children are older and need a degree of independence. Bedrooms that can double as studies or retreats are particularly useful.

5. Kitchen Placement

The preparation of food does not have to be separated from the rest of family life. In many homes, the kitchen opens into the great room over a counter or left open. This not only facilitates serving informal meals but gives those in the kitchen a pleasant view and an opportunity to observe others and interact.

The kitchen should be located near a point of entry, that way when you come home with groceries you don't end up having to walk through the house. Having your kitchen place near a garage or a back entrance and near dining and livings areas will make your life easier and convenient.

6. Don't Forget About the Laundry Room

Everyone is different when it comes to the placement of their laundry rooms. Some like it in the basement, while others like it on the 2nd floor. Locating the laundry room should be convenient for you so take the time to think it through. Do you want your laundry room near the bedrooms so you don't have to take the laundry as far? Or would you prefer to have the laundry room located near the kitchen or bathroom to consolidate plumbing?

7. The functionality of the Home

Your new home has to be functional for you and your family. It's one of the most aspects for you to live comfortably. For example, would you put your dining room on the other side of the living room so that you would have to carry meals through the living room? It's inconvenient. Think about the proximity of rooms including bathrooms. It is desirable to have at least one centrally located bathroom on each level, in addition to any accessible only through the bedroom it serves. Compare where you live currently and think about your likes and dislikes and how you would change it.

8. Your house lot

Your house lot can play a big part in the floor plan, functionality, and floor plan. If your site is not large enough to accommodate a single story home, you may need two floors. Maybe your lot is a rolling property with hills and needs a drive under garage or you can plan for a daylight basement to give you added space you may need. It is good to choose a couple of plans that you can evaluate based on your lot.

9. The use of rooms

Having that playroom, game room, craft room, etc sounds great, but you should only plan to build a room that you will actually use. Most of the time an unused room becomes a dumping ground to place items that never get used. If you do plan to add a spare room, have it so that the room can transition from one type to the next if need be. Having a office that can double as a guest room could get used more often.

10. Don't let someone tell you what you need.

Would you live in a new log home that someone else designed based on their needs and not yours? Your answer to that question is most likely NO. You know what is best for you and your family. No one knows your needs and lifestyle better than yourself. That is not to say you shouldn't listen to suggestions. Hearing suggestions are good and can open your eyes to things that you may have overlooked. Maybe you didn't think about some of the functionality of the home or it would be good to move/add another window in a room. In the end though, it's your home and your decision.

Proper planning ahead of time can save you in costly renovations down the road.

Ready to start planning your dream log home? View our floor plans or give us a call at 800-341-1566 to discuss the possibilities. Or drop us an email.
Comments