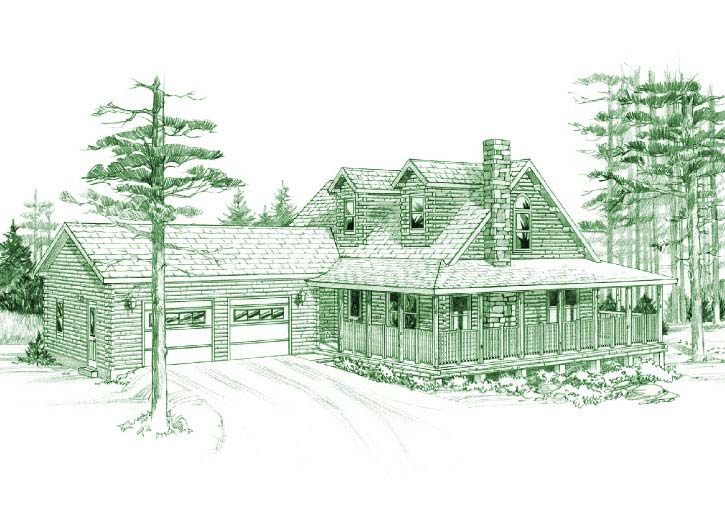 First Floor: 1360 sq ft
Loft: 617 sq ft
Bedrooms: 4
Baths: 2
Garage: 672 sq ft
Premium Price: 313,234
Standard Price: 261,040
Hybrid Price: 237,410
Wrap-Around 3/12 Rafter Porches
28 Ft. - 6 in. Shed Roof, 4/12 Rear Dormer
Two Front Gabled Dormers
10/12 House
6/12 Truss Garage
**All plans can be modified to meet your goals. Every home is designed to your specific needs.**
*ALL PRICES SUBJECT TO CHANGE WITHOUT NOTICE. Please view the materials list for detailed information of materials included. We would be happy to quote the log home package that best suits your needs.
Princeton
The Princeton's graceful design would be as perfect in a mountain setting as it would be in a tree-lined neighborhood. The wrap-around rafter porch is a charming addition to the exterior of the home, while the connected garage provides comfort and convenience. Inside, the dining/living room is adjacent to the kitchen and there is a full bath located between the master bedroom and an additional bedroom or office. Dormers on the upper floor allow light to fill the upstairs as well as the cathedral ceiling living room. The second floor also features a full bath and two additional bedrooms.
To modify this plan or to learn more about our custom log home design offerings, fill out our convenient contact form or for immediate assistance, call us at 800-341-1566.
First Floor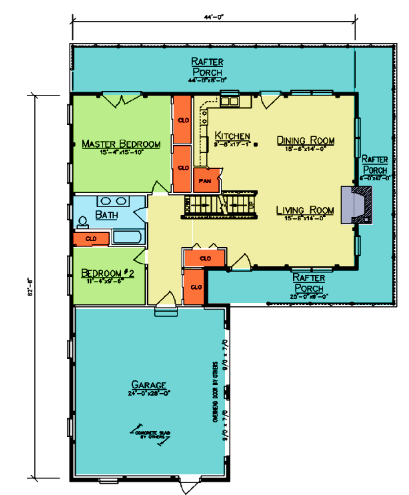 Loft Plan