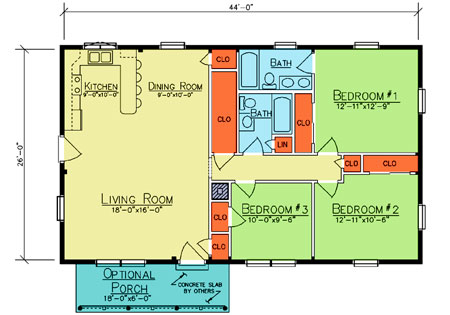 Start with a Stock Plan to Create a Custom Home
Beginning with an existing log home floor plan is one of the easiest and most budget-friendly ways to design a home that is perfect for you and your family. But starting with a certain floor plan doesn't make it your stopping point — far from it. Any Ward Cedar plan, whether it's from our Premier Series, Cedar Valley Series or Camp Series, can be adapted to suit your unique wants and needs.
Here are a few of our favorite tricks and tweaks for transforming any stock plan into your personal dream home.
- Move walls. Expanding (or downsizing) the size of a room by shifting wall placement is one of the most impactful changes you can make to a floor plan. Perhaps removing a hallway will give you the open concept you crave. Or, it could be that reducing the size of your closets in your vacation cabin will allow you to expand the main living areas, giving you more room to host friends and family. Or, maybe combining two spare bedrooms will create the spacious master suite you've always wanted.
- Change windows. Adjust the position of windows in your plan to capture especially desirable sight lines — or remove views that are less than appealing. In addition, changing the shapes of windows can add a custom look to your spaces. The varieties and placement possibilities are almost limitless, ranging from trapezoid shapes, ideal for prow ends, to arched windows above an entry door.
- Add or decrease square footage. How you plan to use your log home or cabin will greatly impact the amount of square footage you need. A weekend getaway cabin for just the two of you will have significantly different space requirements than a full-time family home. Add or remove bedrooms or formal dining areas to suit your needs. Reduce or increase the size of common living spaces, such as the kitchen and living area, based on how you intend to use the home.
- Add (or remove) a loft or basement: If extra space for a guest bedroom, office or a playroom for the grandkids is on your wish list, but your main floor is at capacity, a loft is a simple and budget-conscious way to boost your square footage. Conversely, if a floor plan features a loft, but it's vaulted ceilings you crave, remove it to allow your interiors to soar to new heights. If your individual building site is suited to include a basement, adding a lower level can create flex space that will adjust to your changing needs over time.
Contact us to get started designing your log or timber home today — and ensure you have a haven of relaxation for years to come.
Be sure to follow us on Facebook, Pinterest, Instagram, and YouTube for inspiration, events, tips, vidoes and more!
Comments