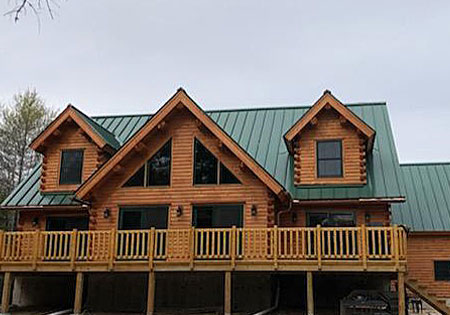 The Long Game
A couple creates a log getaway perfect for relaxing now and for years to come.
It's often said that "good things come to those who wait." Tony and Lisa G. know something about that. The New Hampshire couple spent years dreaming about building a retirement log home and keeping a watchful eye out for the perfect property.
During that time, they also began creating a wish list — not just for the home itself — but for the kind of company they wanted to help build it. A customized design was a must, along with a DIY-friendly construction process. Their search led them to Ward Cedar Log Homes, and while the airtight Comfort System-5 log construction method was a plus, as was the 20-year Ward Cedar quality guarantee, what really sold them on the company was the caliber of the materials. Names like Andersen, Schlage, CertainTeed and Perma-Chink filled the suppliers list.
"Other companies would tell us they could take our plans and come in at 25-percent less, but when you compared the Ward Cedar kit to what the other companies offered, the competitors weren't apples to apples," explains Lisa, citing the quality of the cedar logs, windows and doors.
With their Ward Cedar team in place, the couple was ready to move forward with building when they found a four-acre waterfront parcel. They begin the process of creating their home by combining two tried-and-true Ward Cedar designs — the Norfolk and the Savannah — then giving them a personalized twist.
They leaned into the expertise and recommendations of Ward Cedar's design department to create a single level living floor plan that would suit them in their retirement years, while also adding a spacious kitchen pantry and his and hers closets in the master suite.
In addition to the 3,200-square-foot, three-bedroom, two-and-a-half-bathroom custom home, the couple also purchased a Ward Cedar kit for a detached garage. The structure, which uses 2-by-6-construction and log siding to match the home, offers an additional private living area, including a full bathroom, bedroom, living room and kitchenette, that's perfect for overnight guests.
During the construction process, the couple stayed in close communication with Ward Cedar. "We could call Ron, the Director of Sales and Marketing, directly. Even on a Sunday, we could send him a text with a question, and he would answer," recalls Lisa. "Everyone was beyond supportive from the local representative (Mike & Connie Jackson of Litchfield, NH) to the office team to the guys milling the wood in the facility. We are still friends today."
With a successful build under their belts, Tony and Lisa's story attests to the reward of playing the waiting game. But they are also proof that sometimes seizing an opportunity early pays off, too. In a carpe diem moment, the couple shifted their original idea to use the home as a weekend getaway until retirement, deciding to take the plunge and move in years earlier than planned.
"We loved it so much we ended up making it our full-time home, rather than waiting for retirement," says Lisa. "It's worth the extra commute every day to come back home to such a beautiful place."
Whether you're ready to build now and enjoy your dream home right away or still in the dreaming stage, we're here to guide you through every step of your log home journey. Get started creating the log home you deserve by contacting us for a personalized consultation.
Comments