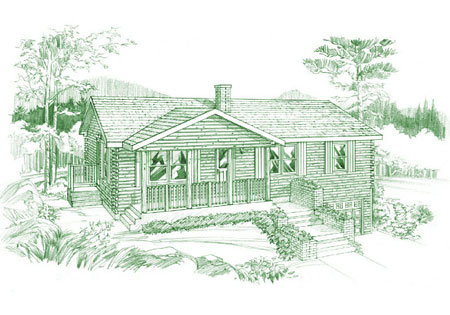 Single story or two story? That is a question that many homeowners face when deciding to build a new log home. There are advantages to both. In this article we will cover the advantages of living in a one story home.

Safe for kids and adults
Stairs can be challenging for the elderly.
Single story homes are perfect for aging individuals. It gives you the freedom to move around at any age.
Having no stairs also offers safety if you have small kids or there are mobility challenged people living in the home.

Easier to Maintain
When it comes to maintenance, single story homes are generally easier.
Two story homes can be more challenging to keep up. With one story homes you can access all areas of the home with a ladder and feel safe.

Design savings
Building your new home, you can save in some areas going with a one story.
Mudrooms and laundry rooms can be combined leading to a cost savings.
Master bathrooms and the main bath can be back to back and having them located near the kitchen can save you even more when it comes to plumbing your home.

Energy Efficiency
We all know heat rises and that may be great come winter time in heating a two story home, however cooling a two story home can take a lot more time and energy than a one story.
Having a two story home may require having a second heating and cooling system.
One story homes can be heated and cooled evenly saving on energy costs and keeping the money in your pocket.

Choosing a one story over a two story home is a personal preference and most likely be based on where you see yourself now and down the road. Knowing the limitations and advantages of both can help you make a decision on what matches your lifestyle the best.

Here are a few of our popular one story homes;

Camden
Cedar Grove
Kennebunkport
It is never too early to start planning your home or log cabin. Get started today by viewing our floor plans and call us at 800-341-1566 or drop us an email.
Comments