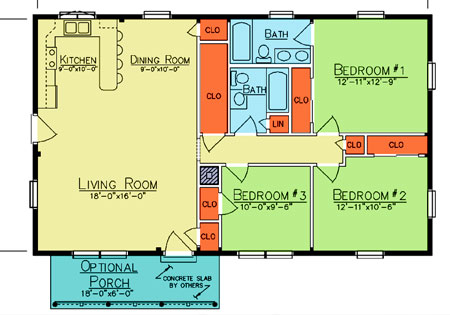 How to Pick the Right House Plan
Finding your perfect floor plan is easy when you know what to look for.
Take a moment to picture your dream home. Maybe a cozy cabin in the woods comes to mind. Or a lodge-style timber home with towering prow-front windows that usher in the views. Or even a Southern-style beauty with long, rambling covered porches filled with rocking chairs.
When building a home from the ground up, the possibilities are endless. But that blank slate can also feel overwhelming. Thankfully, with almost a century of experience building log and timber hybrid homes, there's undoubtedly a Ward Cedar floor plan that checks all the boxes of your dream home.
Browse our 50-plus house plans, and you'll find everything from cozy weekend retreats to retirement-friendly ranchers to spacious, tri-level homes ideal for multi-generational living. To zero in on the plan that is right for you, spend some time thinking through three key aspects of your new home — size, layout and style.
Size It Up

When you look through our three design-series - Premier Series, Cedar Valley Series or Camp Series - you'll find plans ranging from 480-square-foot to upwards of 3,500-square-feet.
Focusing first on the ideal size of your new home will help you narrow down your floor plan options. If a cozy cabin is your goal, you can rule out a 3,000-square-foot design. On the other hand, if you expect your home to be a revolving door of friends and family, you'll want to skip the one-bedroom retreats.
Begin by asking who will live in the home full-time. If it will be just the two of you with occasional guests, having a single bedroom home with a sleeping loft for guests, such as the Baskahegan plan, may fit the bill. On the other hand, if you have a growing family, you may want to consider one of our four-bedroom plans, such as the Cedar Lane, Princeton or the Savannah.
Layout Logistics

The features you are looking for in a house plan can help narrow down the one that is right for you. When you think about how you will use your home, what are the characteristics that come to mind? Do you plan to entertain often? If so, an open floor plan with spacious kitchen and easy access to an outdoor living space will likely be at the top of your wish list. Is enjoying the views in front of a roaring fireplace part of your dream? A living room with oversized windows and a fireplace will be a must.
Beyond shared spaces, think through the ideal placement of your bedroom. A master on the main will give you easy access, while a second-story room will afford privacy. Additionally, consider the location of ancillary spaces, like an office and a laundry room, to further develop your ideal plan.
Be Style Savvy

Because we know that our clients' style preferences are as different as their needs when it comes to size and layout, we offer a wide range of log, timber and hybrid home designs, from rustic to contemporary and everything in between.
For example, Telos, a part of our Camp Series, is fashioned after a classic trapper's cabin in the woods, the perfect home base for outdoor adventures or to enjoy a return to the simple life -- even if it's just for a weekend. In contrast, the breezy Savannah features a gracious design with inviting front porches that beg for guests to sit and stay awhile, while Walton's Mountain offers a flatter, contemporary roofline mingled with Craftsman-style details.
Whether it's a rustic log cabin, a mountain modern timber lodge or a farmhouse-style retreat, you're guaranteed to find a floor plan that fits your style preferences.
Of course, whichever plan you choose, keep in mind that at Ward Cedar Log Homes, every home can be a custom home. You can add a bathroom or sleeping loft, swap out features from one plan to the next, such as a covered porch or walk-out basement, or add or decrease square footage — all with no additional design fees.
Contact us today to begin your log home journey.
Be sure to follow us on Facebook, Pinterest, and Instagram for inspiration, events, tips and more!
Comments