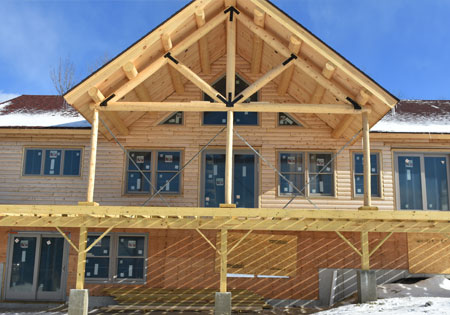 Building on a Budget

Creating a home that looks like a million bucks doesn't have to cost a million bucks.

Building the home of your dreams — whether it's a weekend getaway log cabin or a timber frame retirement home — is a delicate dance of balancing your wants and needs against your budget. But whether you're working with a little or a lot, your Ward Cedar home can have a "wow" factor that fills you with pride every time you walk through the door. The secret is to invest your budget in areas that give you the biggest impact for your dollar.
Before we give you a list of our favorite areas to splurge (and tips on a few places to stay modest), it's important to remember, this is the home of your dreams. So grab a pen and paper and make a list. What are your "musts" in terms of design? Have you always dreamed of cozying up to a wood-burning stone fireplace? Or maybe, rocking away the afternoon on a front porch is part of your cabin dream. Those features will help guide your building budget.
Now that you have your list, here are our three favorite strategies for crafting a home that feels fancy for less.
- Focus on frequented areas. Adding exposed timbers to your great room will elicit ooh's and ahh's every time a guest walks through the door. Placing them in your spare bedroom or bathroom? Not so much. Splurge on interesting architectural details, such as barn doors or built-ins, only in areas where you'll see and appreciate them the most.
- Focus on first impressions. Zeroing in on curb appeal is key to boosting your home's wow factor — specifically creating a welcoming entrance is the best way to do it and still keep cash in your wallet. Frame your entry with exposed timbers or stone columns, coordinate hardware, such as porch lights, handle set and address numbers, and flank your front door with pretty container plants. For the finishing touch, throw out a welcome mat that fits your style.
- Focus on finishes. The quality of your surfaces will have an instant impact on the look of your home. Hardwood floors, granite countertops and stunning lighting fixtures will infuse even the smallest spaces with a high-end feel. If you're working with less square footage, you may be able to incorporate premium finishes throughout. Otherwise, allocate them to common spaces, such as the kitchen, great room and powder room.
Follow these three tips, and you'll be on your way to confidently creating the timber or log home of your dreams on a budget, and if you ask us, that's priceless.
Contact us today to begin your home building journey.
Be sure to follow us on Facebook, Pinterest, and Instagram for inspiration, events, tips and more!
Comments